DOLPHINS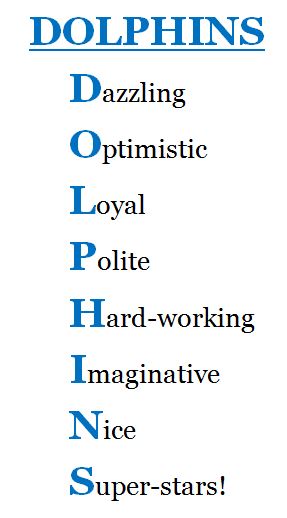 Welcome to Dolphins 2019-2020
We are known as the 'Dazzling Dolphins' because we always try our best and enjoy everything we do.
This year Dolphins class is taught by Mrs Marsden and supported by Mrs Smith.
Please see the links on the right to view our Teacher Profiles.
~~~~~
We have daily phonics, maths, literacy and handwriting lessons; and teachers plan activities to support individual needs in these areas.
Through the use of specific Topic work Turtles and Dolphins learn and develop skills together. The topics we will be working on this year are:
My World ~ All Around the World ~ People Who Help Us ~ Invasion
We wil also be investigating:
Diwali ~ Thanksgiving ~ Christmas ~ Chinese New Year ~ Easter ~ Eid
~~~~~
Every child will read to an adult at least once a week, and work through their key words. We don't send out homework in the Foundation stage, but we do encourage all children to read with a grown-up at home every day.
We also offer Home-link packs that develop skills taught in phonics and maths.
~~~~~
Physical Education (PE) takes place on a Thursday morning. For health and safety reasons, and in accordance with school policy, we ask that you please remember to remove your childs ear-rings (we are not able to do this) and tie back any long hair before the children come to school.
After the October Half-Term PE will take place on a Tuesday morning and will be indoors. Children will be bare-foot for these sessions, but will need to wear a white t-shirt and black shorts.
PE kits will be sent home at the end of every half term.
~~~~~
Wild Wednesday will take place weekly in our outside nature area whatever the weather! So please make sure your child has a mud/wet suit or spare clothes in school every week.
~~~~~
Items to Remember:
Every Day:
Book Bag and Reading File ~ Water Bottle
Appropriate Coat for the Weather
To Remain in School for the Half Term:
PE Kit (White T-Shirt and Black Shorts)
Wild Wednesday Clothes (Mud/Wet Suit or Spare Clothing) ~ Wellies
Change of Clothes (Pants, Socks/Tights, Skirt/Trousers)
~~~~~
Throughout the year we will be offering drop-in sessions for grown-ups, to share your child's learning and daily experiences. We believe that a strong relationship between home and school is crucial for children to achieve their full potential. For this reason, we would like to involve you all as much as possible in being part of your child's daily learning.
Please keep an eye out for future events and activities that you can come along to. In the meantime, if there is anything we can help or support you with please feel free to speak to one of us.
~~~~~
Please let us know when your child does something amazing at home by filling in a
We can then celebrate this achievement in school.