Education City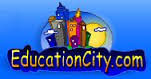 "Since its founding in 1999, EducationCity has remained faithful to its commitment to produce unparalleled educational experiences based on highly engaging content and exceptional quality.
Dedicated to creating new ways of delivering curriculum content, recognised with awards by educationalists and adored by children everywhere, EducationCity pioneers the evolution of teaching with technology in the new digital learning era."
At Warboys Primary Academy we use EducationCity.com for:
KS2 - French
All pupils have been issued Education City login details for use in the academy, however if they have misplaced or not received the login details please use the link on the right to fill a form out to get the login details resent or changed.
Note: This is not an instant service, a member of staff will need to login to reset or reissue the details.